Here you will find all info and updates about "Binary Maze" game.
So...

Binary Maze
is a top down 2D puzzle arcade where you have to play for loving couple: pixel boy and pixel girl.
Binary Maze is inspired by the great NES classic arcade Binary Land. Some Sokoban elements mixed in it. New items and enemies have been added. And strong bosses came.
By controlling both characters make your way through the maze full of different enemies and puzzles, collect all diamonds and avoid falling into traps, open locked doors and blast preventing walls, meet with your second half and defeat the evil boss together.
Binary Maze features:
- Control two characters at the same time
- 45 unique levels in three different locations: the garden, the house and the dungeon
- Dark levels with only small spots of light visible
- 4 types of enemies and 3 bosses
- Cobweb-traps and pits
- Ability to move boxes and blast walls
- Puzzles with doors and buttons
- Two game modes: Normal and Arcade (with limited lives and levels going one by one)
Binary Maze
is developing for
Windows
and
Mac
.
And yes, it is
hardcore
.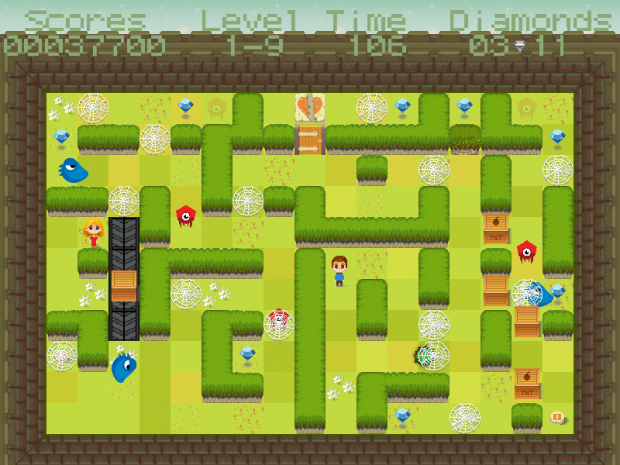 When and where it will be released?
Release date: Summer 2013
Game will be pushed to Desura, Indievania, GamersGate and Steam Greenlight.
You can track the developing of Binary Maze with a lot of ways:
- here in the blog I will post all news
- on the Twitter: @Binary_Maze
- on the indieDB page:
Binary Maze on indieDB
Feel free to ask any questions.
Kind regards,
Max Marozau